My good friend
Lightening
has in the past given herself "permission to potter". It's one of those concepts that those "hyper focused" among us reject as useless. Until one day... I had a huge pile of ironing to do. Probably 2-3 baskets. I decided I would iron for 30 minutes, not full on, I would let myself be sidetracked, and at the end of 30 minutes I could stop for the day. I read email, posted on groups and even did some dishes in that 30 minutes. But at the end of it, I had 2 shirts left to iron. Needless to say I finished those two shirts, and caught up on the ironing in 30 minutes, without pushing myself.
I am currently attacking my dining room. It became the dumping ground earlier this week when the carpets in all the bedrooms and the lounge room were being cleaned. And when I say dumping ground, I mean dumping ground. Here's a couple of pics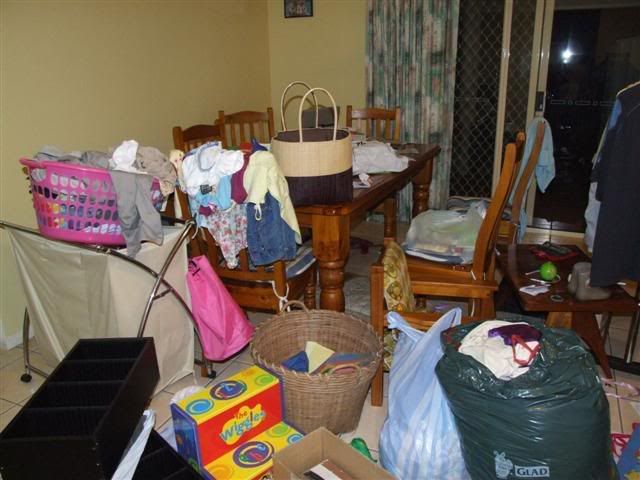 I don't watch a lot of TV these days. I'd rather spend my nights on the computer. But I do love my House. So tonight, during the ads, I gave myself "permission to potter". The focus was the dining room, and the list I had of things I wanted to get done today, but I would allow myself to potter and see where I got to. Just during the ads mind.
After an hour of "pottering" during the ads (about 20 minutes in roughly 3 minute increments) this is what the dining room now looks like:

As you can see, definitely still a work in progress. A pile of rubbish at the front there to take to the tip tomorrow, and a fair bit of work to do, but 100 times better than what it was just an hour earlier. I also managed to cross another 3 things off my list in that time as well.
Sometimes though, it's important to realise what can be achieved in a short period of time, and that "going slow" and giving ourselves "permission to potter" can achieve a lot more than you think.