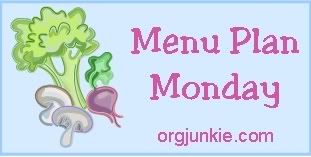 Ooh, I like the pretty new banner! Yes I'm very late. I blame study. Believe it or not I'm actually doing some. But that's another post.
Our menu s not exactly thrilling, because I'm trying to empty the freezer still, and studying, which means Hubby is doing a lot of the cooking. But it's getting there slowly.
Monday - Meat Pie, mashed potato & sweet potato, peas & corn
Tuesday - Sausage Casserole
Wednesday - Honey Mustard Chicken and rice (I'm cheating and using a jar)
Thursday - Takeaway, to celebrate the end of the study year!
Friday - Chicken Burgers (I'm working so Hubby will be home alone with the kids)
Saturday - Traditional English Breakfast (sauasages, eggs, bacon, mushrooms, baked beans, tomato yum!)
Sunday - Pot Roast (again I'm working so Hubby will likely do something spectacular with this one
So there you have it. Another week at Kin's House. For more menu's check out Organizing Junkie (and check out her pretty new look site!)